Logistics
Warehouses | Stores | Branches | Factory stores | DIY stores
Logistics
Functionalities
Goods reception, identification, and labeling

Stock management and inventory

Stock status control by warehouse and location

Goods movement management between warehouses

Parcel preparation and shipment of goods
Strengths
Solution complementing the Client's Back Office (ERP, MES, WMS, etc.)

Optimization of goods flows for simple warehousing based on management documents (supplier orders, customer picking lists, production orders, etc.)

Quick implementation thanks to available PMS ETL connectors

Solution suitable for SMEs and mid-sized companies for operation without the need for an ERP
Benefits
Faster goods reception control

Time savings and guarantee of accurate order preparation

Efficient and time-saving inventory verification

Document assignment on handheld devices (PDA)

Real-time updated stock status of your warehouses

Data security and integrity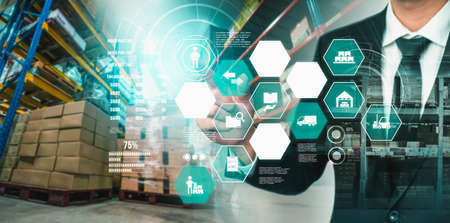 Your Logistics solution for managing goods flows and traceability in your warehouses.
Parcel reception, manufacturing management, inventory control, stock in/out management, customer shipment.
Automatic synchronization of Back Office databases with the management application.
Management of barcode label printing, tracking/handling of purchase, sales, and stock documents from your WiFi-enabled handheld devices.
Supplier reception:

quantity control – processing Purchase Order into Delivery Note on handheld device (PDA)

Product label creation/printing
Manufacturing management:

processing Production Preparation – Work Order – Production Note on handheld device (PDA)

Customer delivery:

Packaging management, batch management – processing delivery preparation into Delivery Note on handheld device (PDA)

Carrier management

: associating Transport Note number with customer Delivery Note (EDI, tracking…)

Inventory:

Multi-PDA, zone assignment per PDA, data import into sales management, control and validation on Middle Office, Back Office/Middle Office stock status synchronization

Document printing

for preparer

Real-time stock

update through data synchronization, using PMS ETL tool